Midwest First-Year Conference

2017 Keynote Speaker
Laura I. Rendón, Ph.D. - laura.rendon@utsa.edu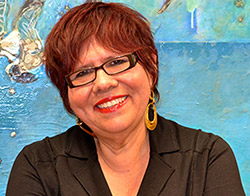 Laura I. Rendón is Professor Emerita and Co-Director of the Center for Research and Policy in Education at University of Texas-San Antonio.
A native of Laredo, Texas, Rendón's scholarly endeavors have focused on college access and success especially for low-income, first-generation students. Rendón is credited with developing the theory of validation that academic and student affairs practitioners have employed as a student success framework.
Rendón is also a teaching and learning thought leader. She is the author of the book, Sentipensante (Sensing/Thinking Pedagogy): Educating for Wholeness, Social Justice and Liberation, that addresses deep, holistic learning and its relationship to social justice.  
Rendón has delivered keynote addresses at national and international conferences, and she has conducted faculty and staff development workshops at two- and four-year colleges.
She is currently co-editor of three new books which will be released in 2017:
1) The Latino Student Guide to STEM Careers
2) New Directions in Hispanic College Student Assessment and Academic Preparation
3) Hispanic College Students Move Forward: Policies, Planning and Progress in Promoting Access
In 2013 the Texas Diversity Council awarded Rendón the title of being one of the Most Powerful and Influential Women in Texas. Rendón has also been a fellow of the Fetzer Institute and is currently a fellow of the Mind and Life Institute.
Rendón earned a Ph.D. from the University of Michigan, Ann Arbor. She holds a Master of Arts degree from Texas A&M University-Kingsville and a Bachelor of Arts degree from the University of Houston. Rendón earned an Associate of Arts degree from San Antonio College and also attended Laredo Community College.